William Simonson, PharmD, BCGP, FASCP
Oregon State University, Corvallis, OR, USA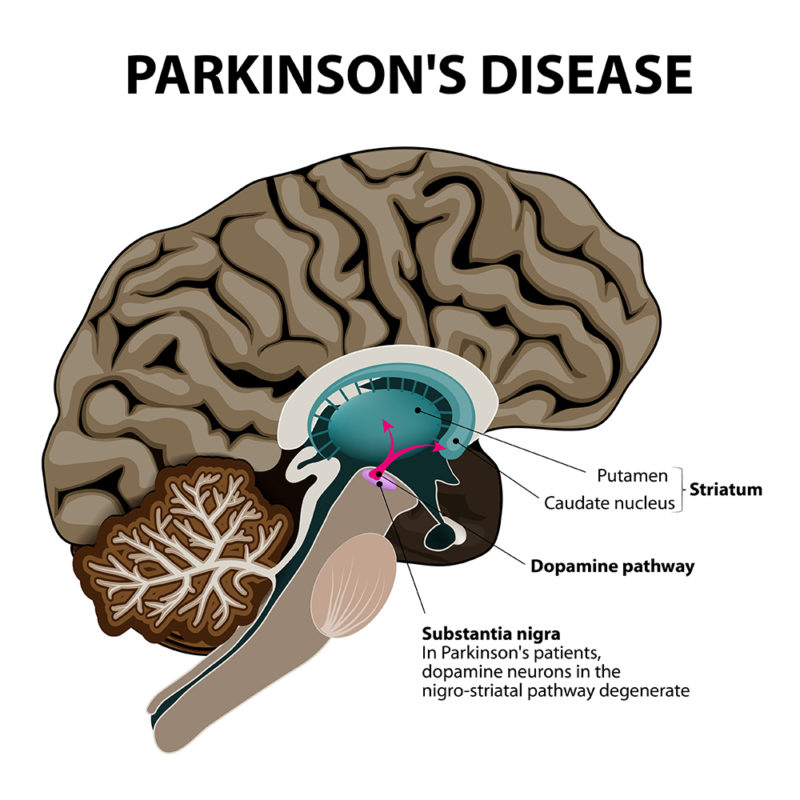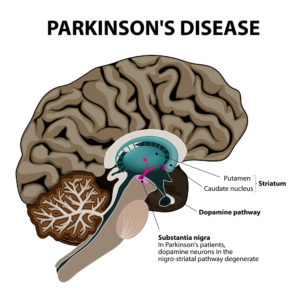 An estimated 50,000 Americans are diagnosed with Parkinson's disease (PD) each year according to the National Institutes of Health which reports that about one million Americans have PD. This neurological disorder typically occurs in people over age 60, though it can occur in younger individuals. In PD dopamine-producing cells in the brain become impaired or die. Because dopamine helps transmit signals between the areas of the brain that produce smooth, purposeful movement such as eating, writing, and shaving, deficiency of this critical neurotransmitter can result in serious movement disorders. Early symptoms of the disease are subtle and occur gradually and disease progression in different individuals varies.1
At present there is no cure for PD but there are many different pharmacologic options to help manage symptoms. Most of the approved PD drugs work to correct the dopamine deficiency which is the cause of this disease. Typically, patients may take multiple Parkinson's drugs, each working in a different way to increase the availability of dopamine in the brain. Drug therapy can have dramatically positive effects; however, patients typically experience fluctuations in drug effect. When drug therapy is working it is referred to as being "on." Likewise, PD patients may experience episodes where the symptomatic relief resulting from effective drug therapy is reduced. These are referred to as "off" episodes when Parkinson's symptoms, such as tremor or difficulty walking, return despite medication. These "off" episodes become more common as the disease progresses.
This column will briefly review two new drugs that have recently been added to the list of treatment options for PD.
On March 21, 2017 the US Food and Drug Administration approved Xadago (safinamide) as an add-on treatment for PD patients who are currently taking levodopa/carbidopa. This new drug is indicated as an adjunctive treatment to levodopa/carbidopa in patients with PD who are experiencing "off" episodes. It is taken once daily and is not indicated as monotherapy. Safinamide is a monoamine oxidase type B (MAO-B) inhibitor which works to inhibit the breakdown of dopamine in the body with a subsequent increase in dopaminergic activity in the brain.1
The efficacy of safinamide in treating Parkinson's disease was demonstrated in two clinical trials totaling nearly 1200 Parkinson's patients. In both of the studies participants who were already taking levodopa/carbidopa and/or other Parkinson's drugs were experiencing "off" time. Using an 18-h self-reported diary those receiving safinamide experienced more beneficial "on" time, without troublesome uncontrolled involuntary movement (dyskinesia), compared to those receiving a placebo. One study showed an approximately one-half hour increase in "on-time" and a one-half hour decrease in "off time" and the other study showed an approximately 1 h increase in "on time" and a 1 h decrease in "off time". Patients receiving safinamide also had better scores on a measure of motor function assessed during "on" time than before treatment.2
Certain patients should not take safinamide including patients who have severe liver problems. Potentially serious drug interactions may occur including in those patients who are also taking dextromethorphan or other MAOI's because it may cause a sudden severe increase in blood pressure. Those who take an opioid drug, St. John's Wort, certain antidepressants (such as serotonin-norepinephrine reuptake inhibitors, tricyclics, tetracyclics, and triazolopyridines), or cyclobenzaprine may develop a life-threatening serotonin syndrome.1
Some readers might assume that the potential benefit of safinamide is modest but in the patient suffering from PD these benefits could be seen as a welcome improvement. It remains to be seen whether Parkinson's patients will find that this new drug provides them with enough improvement and, if so, it will likely earn a place in the growing armamentarium of Parkinson's drugs.
Another new drug, approved by the FDA on April 29, 2016, is Nuplazid (pimavanserin). This product is not a Parkinson's drug like safinamide that works to increase dopamine effect. Rather, it is a unique atypical antipsychotic indicated for the treatment of hallucinations and delusions associated with Parkinson's disease psychosis.
In addition to the motor symptoms seen in PD as many as 50 percent of patients may experience hallucinations or delusions during the course of their illness. These symptoms may be profoundly disturbing and disabling to the patient and their loved ones.
The effectiveness of pimavanserin was demonstrated in a six-week clinical trial of 199 participants. Pimavanserin was shown to be superior to placebo in decreasing the frequency and/or severity of hallucinations and delusions without worsening the primary motor symptoms of PD.3
As with other antipsychotic drugs, pimavanserin has a Boxed Warning alerting health care professionals about an increased risk of death associated with the entire class of atypical antipsychotics. It is important to emphasize the fact that no drug in this class, including pimavanserin, is approved to treat patients with dementia-related psychosis. Pimavanserin is not approved for the treatment of patients with dementia-related psychosis unrelated to the hallucinations and delusions associated with PD psychosis.4
The FDA granted Nuplazid, the branded version of pimavanserin, breakthrough therapy designation for the treatment of hallucinations and delusions associated with PD. This designation is a program designed to expedite the development and review of drugs that are intended to treat a serious condition and where preliminary clinical evidence indicates that the drug may demonstrate substantial improvement over available therapy on a clinically significant endpoint. The drug was also granted a priority review by the FDA. This priority review program provides for an expedited review of drugs that offer a significant improvement in the safety or effectiveness for the treatment, prevention, or diagnosis of a serious condition.3
The proper use of Nuplazid will require health professionals and patients to understand some of the unique aspects of this product. Of note, Nuplazid is available as a 17 mg round, white, coated tablet. The approved dosage is two tablets (a total of 34 mg) taken by mouth once daily, without titration. As the reader knows, many geriatric prescribers routinely follow a "start low and go slow" mantra when initiating drug therapy in the elderly so it is likely that some will start therapy with only one 17 mg tablet daily, however, the Nuplazid prescribing information does not call for a dosage adjustment with one exception due to potential drug in-teractions. When a patient is also taking a strong CYP3A4 inhibitor (e.g., ketoconazole, nefazodone, grapefruit juice) the dosage should be reduced by one-half which would be one, 17 mg tablet by mouth once daily. When a patient is taking a strong CYP3A4 inducer (e.g., carbamazepine, rifampin, St. John's Wort) they should be moni-tored for reduced efficacy and an increase in pimavanserin dosage may be needed.
No dosage adjustment for pimavanserin is needed in patients with mild to moderate renal impairment and the use of pimavanserin is not recommended in patients with severe renal impairment. Pimavanserin has been studied in elderly PD patients. The mean age of patients enrolled in the 6-week clinical studies was 71 years, with 49% 65e75 years old and 31% >75 years old and it was determined that no dosage adjustments are necessary based on age.4
Biopharmaceutical companies are continuing to work on numerous new drugs to reduce Parkinson's symptoms. The development of drugs for PD is challenging because it is difficult to augment the effect of dopamine in the brain. This may require unique products and dosage forms. For example, for the sudden and unexpected return of Parkinson's symptoms, an inhaled form of levodopa and an under-the-tongue preparation of apomorphine are in late stages of development.5
The two new products reviewed in this column represent continuing progress toward the development of a therapeutic regimen that will eventually successfully control PD symptoms and hopefully someday cure the disease entirely.
References
Disclosure: Dr. Simonson is a paid consultant for Acadia Pharmaceuticals, the makers of Nuplazid, however, he did not receive compensation for preparing this article.